For the Interest of all the People
If you are suffering from a fever above 37.5℃, cough, loss of smell and taste, or, having any of the following conditions,
please call us 03-3486-6601 before visiting our clinic.
1. Have been overseas in the past 14 days.
2. In the past 14 days, have met patients with new coronavirus or were suspected.
3. Have met a person who had a fever above 37.5℃, cough, or loss of smell and taste within the past 14 days.
Hospital's specialty
A challenging aspect of diagnosing skin diseases is that eczema that look the same may be caused by different reasons such as viruses, fungi, bacteria, or insect bites. The physicians at our hospital are trained in clinical "2 Minute Quick Tzanck Test" to identify the cause of skin diseases. During consultation, we can use the microscope screen to confirm the cause of the diseases together with the patients. After the diagnosis is confirmed, the physician will explain the treatment policy and the correct administration method for topical and oral medications. Besides this,our hospital is also equipped with phototherapy equipment, cryotherapy equipment and various lasers to help patients recover faster!
Hospital director introduction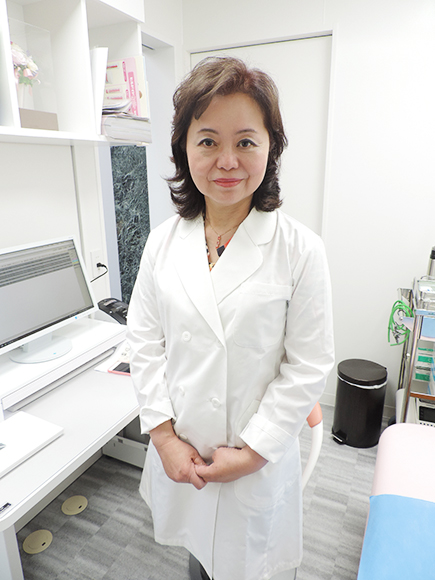 Lily Hsiao, MD PhD
My husband and I opened the Moriya Eye and Skin Clinic in Moriya, Ibaraki Prefecture 25 years ago. Fortunately, my two children have successfully grown up and are with their own specialties: my daughter is a dermatologist and my son is an orthopedic surgeon at the University of Tokyo. It has been challenging these 25 years to have actual experience with running a private clinic of dermatology. Through this experience, not only mastered the knowledge in the textbooks but also sought further development in the area. Ten years ago, we started using microscopy to carry out Tzanck test for observing cytologic and histological changes in various skin diseases and establishing a quick bedside Quick Tzanck Test. We have acquired the know-how and methods of determining the cytological changes and treatment methods for various skin diseases which enabled us to observe cytological changes of the patient on the spot and confirm diagnosis and treatment. This time around, we are fortunate to be able to establish this dermatologic clinic in the eastern area of Shibuya, and we hope to help more patients with our accumulated treatment experience.
Besides having acquired many years of clinical experience ourselves, we have also hired physicians from university hospitals who have treated many patients with severe diseases using the latest knowledge and technology. All of us work together to hope that patients can feel assured when they visit our hospital for consultation. Our dermatologic clinic can take care of patients of varying ages such as commonly seen eczema in infants and children, skin problems during adolescence, and aging skin symptoms that appearing with increasing age.
Besides drug therapy, we are also equipped with the most suitable test methods and the latest medical equipment such as phototherapy, and various lasers for multi-directional treatment.
Academic background
| | |
| --- | --- |
| 1980 | Graduated from Kaohsiung Medical University (Taiwan) and obtained Taiwan's national physician license |
| 1980 to 1981 | Internal medicine physician at Cathay General Hospital |
| December 1981 | Obtained Japan's physician license |
| 1982 to 1985 | Dermatologist at Kumamoto University Hospital |
| April 1985 | Enrolled in the doctorate class at the Graduate School of Medical Sciences of Kumamoto University |
| March 1989 | Graduated from the Graduate School of Medical Sciences of Kumamoto University and obtained a PhD in Medicine. |
| December 1990 | Obtained dermatologist qualifications from the Japanese Dermatological Association |
| January 1991 | Deputy Director of Moriya Eye and Skin Clinic in Moriya, Ibaraki Prefecture |
| 2017 | Director of Shibuya International Skin Clinic |
Affiliations
Qualified dermatologist of the Japanese Dermatological Association
Member of the Japanese Dermatological Association
Member of the International Society of Dermatology
Publications
The 2 minute Quick Tzanck Test to Diagnosis Herpes Simplex Viral Infection: Cytologic and Clinical Atlas of Skin Diseases Including Atopic Dermatitis, 2011, Ho-Chi Book Publishing Co., Taipei, Taiwan
Treatment for Human Herpesvirus diagnosed by Quick Tzanck Test, 2021, Morning Star Publishing Co., Taichung, Taiwan
General dermatology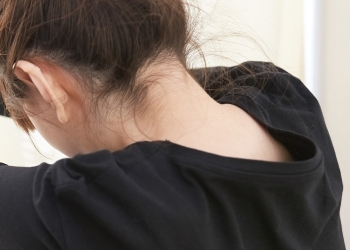 General dermatology is the treatment of skin swelling, itching and other changes to the skin surface and its color. The skin is the boundary between the body and the environment that not only protects the blood vessels, nerves, and internal organs, but also regulates body temperature, maintains moisture in the body and prevents external stimuli from entering the body. In addition, some other internal medicine diseases will present with unique skin symptoms. Early detection and treatment of these internal medicine diseases can be carried out through representative symptoms of the skin. Therefore, when symptoms appear on the skin, it is imperative to seek early diagnosis and treatment at dermatology clinics!
Treatment of patients with acne Before and 7 days after taking the 5-day course of oral antiviral agent and ongoing topical antibacterial cream, according to the result of the Quick Tzanck Test (QTT)
Before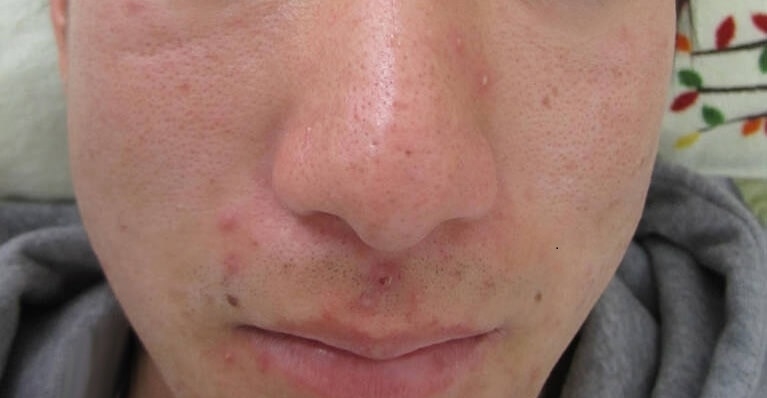 7 days later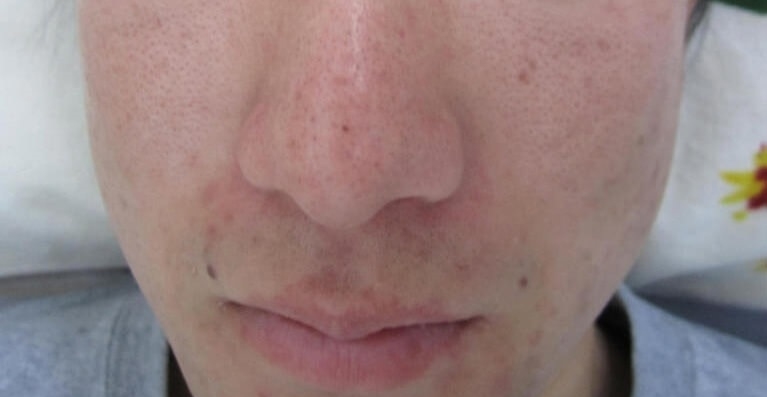 Pediatric dermatology
Pediatric dermatology is similar to other diseases as some skin diseases are more likely to occur in infants with poorer immunity. The female physicians in our hospital not only have extensive experience in treating pediatric skin diseases, but as parents with children, they are also better able to understand the feelings of the children and parents and can treat child patients with greater affability!
The major diseases in pediatric dermatology include
Eczemas

atopic dermatitis, contact dermatitis, seborrheic eczema, infant eczema

diaper rash Allergies

food allergies, urticaria

drug allergiesBacterial diseases

impetigo contagiosa

folliculitis Viral diseases

herpes simplex, varicella, herpes zoster, hand, foot and mouth disease, viral warts

molluscum contagiosum Fungal diseases

Athlete's foot

Candida albicans infection Insect-related diseases

scabies, head lice disease

insect bites Birthmarks/nevi

moles, Nevus of Ota, strawberry emangioma, hemangioma simplex, nevus sebaceous

calcifying epithelioma Diseases related to the sweat glands

miliaria

hyperhidrosis Other diseases

vitiligo, acne, neonatal acne, alopecia areata, trichotillomania, scalds, etc.
〔Eczema Case①〕
Before and After the treatment of using oral anti-allergic agent, oral anti-viral agent, and topical corticosteroid ointment according to the result of 2 Minute Quick Tzanck Test.
Before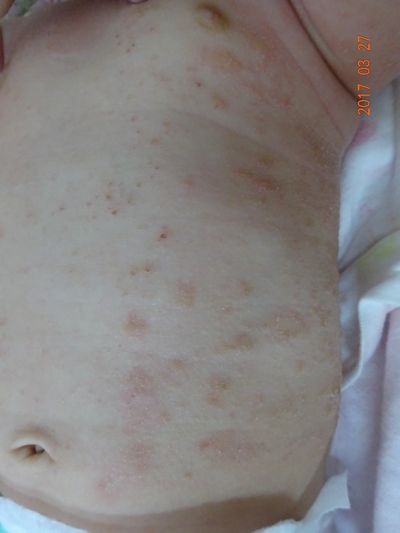 2 days later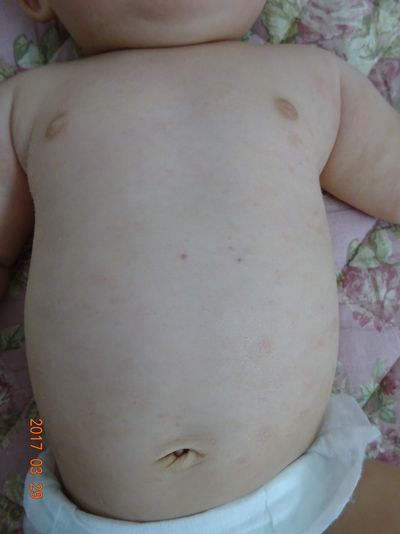 9 days later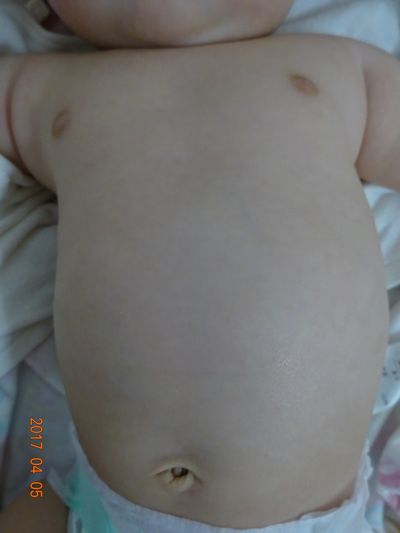 〔Case②〕
Before & After the treatment of using oral anti-allergic agent, oral anti-viral agent, and topical corticosteroid ointment according to the result of 2 Minute Quick Tzanck Test.
Before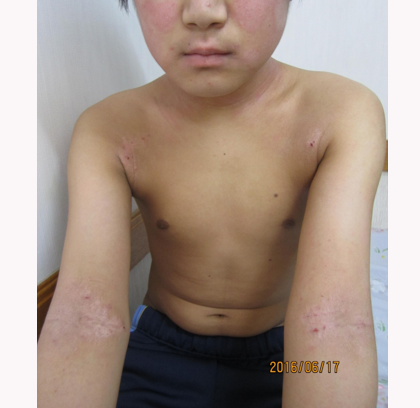 5 days later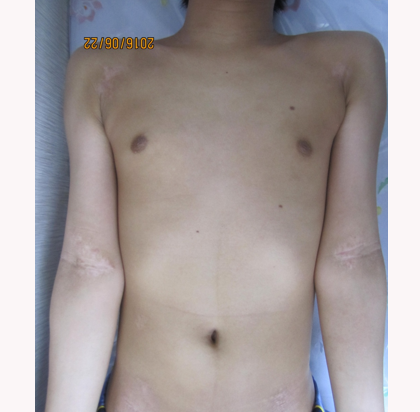 Cosmetic Dermatology
The dermatologists in our hospital operate digital medical equipment to analyze skin status before formulating a customized cosmetic and anti-aging treatment plan. Laser and ionphoresis together with sonophoresis are used for efficient and safe cosmetic treatment of pigmentary spots and wrinkles.
Our hospital's specialty
We employ evidence-based medicine for cosmetic treatment. We listen to your frustrations, describe skin changes, and prioritize treatment that is covered by insurance. We do not sell expensive cosmetics and beauty packages. Therefore, please feel free to contact us any time.
Treatment of acne, warts, and moles
Many people believe that acne, warts, and moles are skin problems that only affect appearance and have to self-pay for treatment. However, the treatment of most of the acne, warts, and moles is covered by insurance. Please do not give up treatment because you think that these problems are due to age or body constitution. Please proactively contact us.
〔Treatment Case①〕
Melasma: immediately after Long-pulsed alexandrite laser therapy and 14 days later Long-pulsed alexandrite laser therapy diameter: 15mm, energy: 25 joules, first session
Immediately after treatment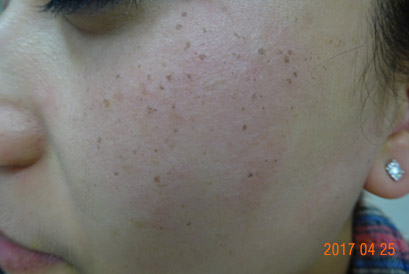 14 days later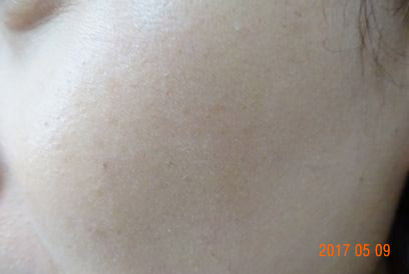 〔Treatment Case②〕
Senile pigmentary spots: before Long-pulsed alexandrite laser therapy and 14 days later Long-pulsed alexandrite laser therapy diameter: 15mm, energy: 25 joules, first session
Before treatment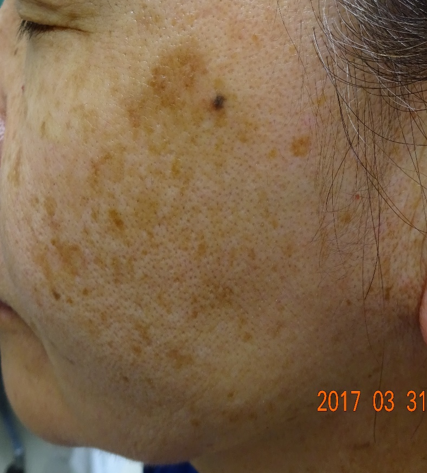 14 days later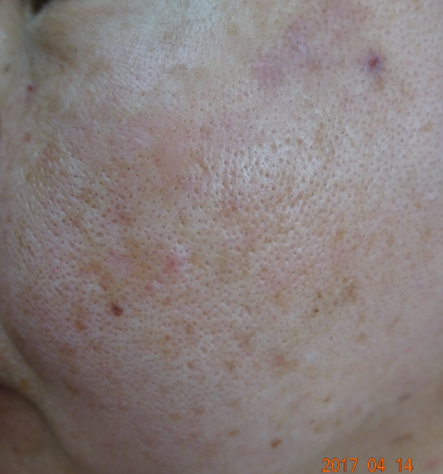 Items of Cosmetic dermatology
Improving melasma and wrinkles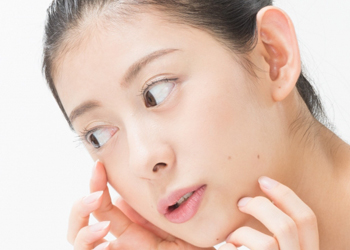 The cosmetic treatments carried out by our hospital are very safe and will not cause inflammation. Patients can recover and put on makeup the next day after treatment. Long-pulsed alexandrite laser therapy is used to improve your melasma, wrinkles and pigmentary spots.
Alexandrite Laser Treatment
Whitening Lase

¥22,000
Acne scars

¥22,000
Dark Spot


(per shot)

¥220
*One spot
may require more than 10 shots.
Freckles


(per shot)

¥220
Technical Charge
¥5,500
Follow-up Charge
¥1,100
Laser Hair removal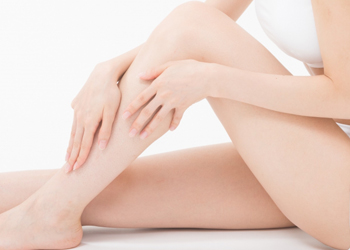 Laser hair removal can be used below the armpit, at the arms, face, mustache, hands, fingers, bikini (V) line, G-string (I) line, O line, areola, below the knees, thighs, behind the neck, at the neck, around the navel, buttocks, forehead, and other sites. In addition, a private room is prepared to ensure the personal privacy of our patients. All of the aforementioned sites can be safely treated.
Laser Hair Removal
Armpits
¥13,200


3-time Course:

¥33,000


6-time Course:

¥55,000
Armpits & Perioral
¥16,500


3-time Course:

¥38,500


6-time Course:

¥66,000
Upper Arms
¥22,000


3-time Course:

¥52,800


6-time Course:

¥85,800
Lower Arms
¥22,000


3-time Course:

¥52,800


6-time Course:

¥85,800
Thighs
¥44,000


3-time Course:

¥104,500


6-time Course:

¥165,000
Legs
¥44,000


3-time Course:

¥104,500


6-time Course:

¥165,000
Lower Arms & Legs
¥55,000


3-time Course:

¥137,500


6-time Course:

¥220,000
V-Line
¥8,800


3-time Course:

¥22,000


6-time Course:

¥35,200
V-Surface
¥5,500


3-time Course:

¥13,750


6-time Course:

¥22,000
I-Line
¥8,800


3-time Course:

¥22,000


6-time Course:

¥35,200
O-Line
¥8,800


3-time Course:

¥22,000


6-time Course:

¥35,200
Face


(depends on the intended area)

¥5,500


3-time Course:

¥13,200


6-time Course:

¥22,000
Whole Face
¥8,800


3-time Course:

¥22,000


6-time Course:

¥35,200
Whole Back
¥44,000


3-time Course:

¥104,500


6-time Course:

¥165,000
Half of Back
¥22,000


3-time Course:

¥52,800


6-time Course:

¥85,800
Nape
¥5,500


3-time Course:

¥13,200


6-time Course:

¥22,000
Per Shot
¥220
Finger & Dorsum of Hands
¥2,200


3-time Course:

¥5,500


6-time Course:

¥8,800
Toe & Dorsum of Feet
¥2,200


3-time Course:

¥5,500


6-time Course:

¥8,800
LAC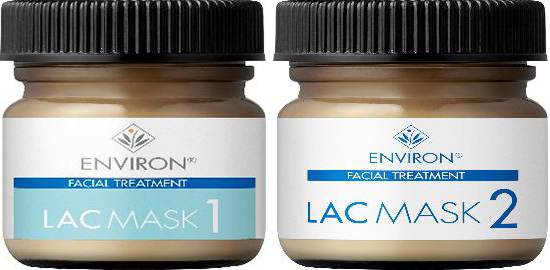 Our LAC face mask uses lactic acid as its main ingredient and provides face mask treatment. Application of gentle AHA cream on the skin surface can result in appropriate epidermal stimulation and promote epidermal cells to release growth factors. This low-irritant treatment can be repeated and will not cause excessive burden on the skin. In addition to acne treatment, the skin will become smoother, firmer, and brighter, achieving various cosmetic results. Meanwhile, the face mask can be combined with ultrasonic iontophoresis to better elicit its therapeutic effects.
| | |
| --- | --- |
| Face | ¥8,800 |
| Arms | ¥5,500 |
| Back | ¥5,500 |
| Cleavage (Breasts) | ¥3,300 |
| LAC Face Mask | ¥3,300 |
Iontophoresis (イオン導入) Skin Beauty Care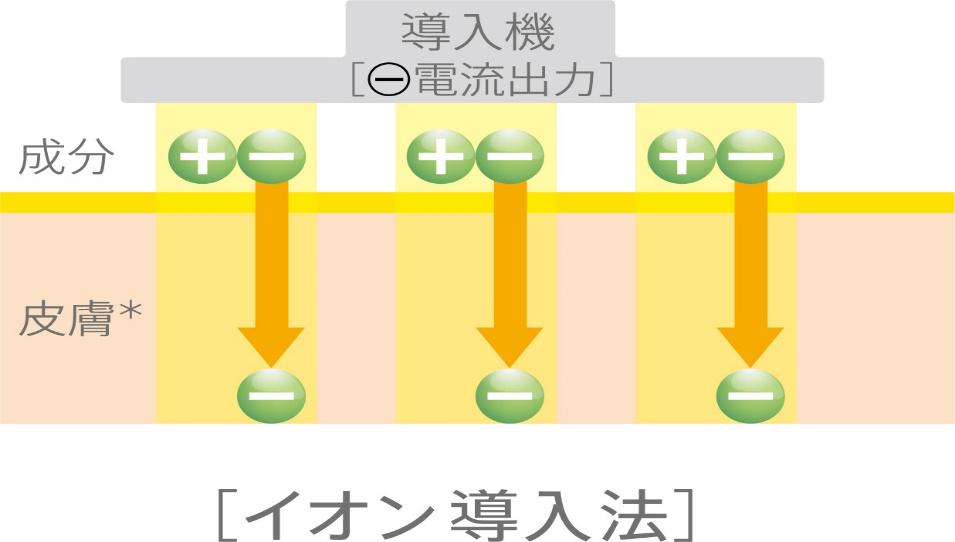 【Principle】
Our skin surface has a function of isolation and protection, which results in inability for active ingredients that are smeared onto our skin to permeate into deeper skin layers. Ion-importing is effective in aiding water-soluble effective ingredients to penetrate this protective layer and reach the deeper skin layers. There have been reports pointing out that:ion-importing achieves permeability effects more than 4 times that of simple smearing.
【Treatment Course】
One import treatment every 1-2 weeks is recommended. One treatment every month can achieve persistent skin beauty effects.
※EX: Possible sunburn during vacation… Undergoing minimize the damage caused by UV light.
※EX: Necessity for quickly achieving whitening effects of skin before a wedding ceremony. Once to multiple times a week depending on the location and skin condition. Those interested should consult with the physician.
【Treatment effects】
Ingredients such as high concentration vitamin, tranexamic acid, vitamin C, multi-vitamin,etc. will not only act on the surface of the skin, but will enter the basal layer of the skin and deep into the dermal layer. Active ingredients are chosen according to the symptoms, using ion-importing treatment to provide significant effects and alleviate to acne, promote elastin and collagen synthesis, suppress melanin synthesis or facilitate excretion of deposited pigments, and remove reactive oxygen species (causes aging), etc.
【Patients not able to undergo treatment】
Pregnant or lactating individuals
Individuals wearing cardiac pacemakers
Individuals with other implantable metallic or mechanical devices
Sonophoresis Skin Care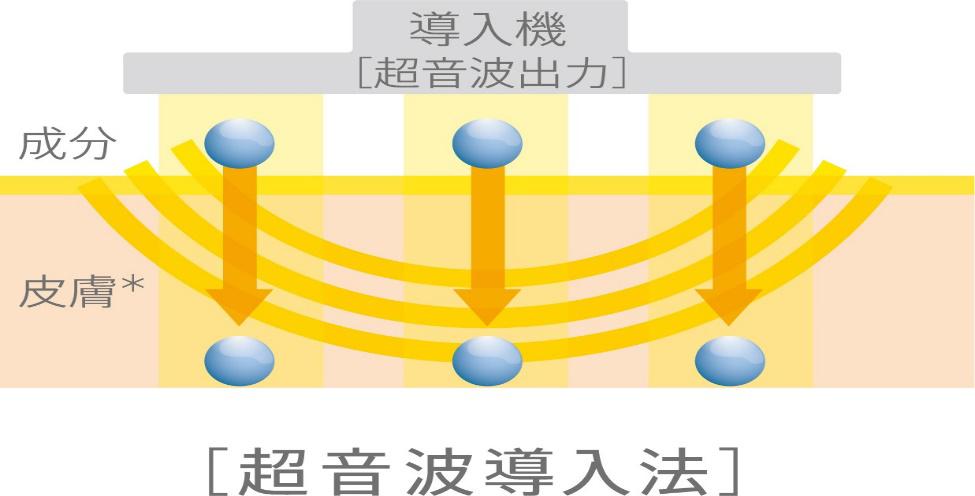 【Principle】
The effect of sonic vibrations on the skin creates cavitations on the cuticle. This allow ingredients that are not able to be ionized or molecules that are too large to easily penetrate the skin. The combination of ultrasonic and ion-import therapy achieves approximately 40 times the
penetration effect for effective ingredients than that from smearing.
【Treatment Intervals】
It is recommended to carry out 1 treatment every 2-4 weeks to provide repeated and continuous treatment.
Able to provide enhanced treatments on particular regions.
【Patients not able to undergo treatment】
Pregnant or lactating individuals
Individuals wearing cardiac pacemakers
Individuals with other implantable metallic or mechanical devices
| | |
| --- | --- |
| Iontophoresis | ¥7,700 |
| Sonophoresis | ¥9,900 |
| Both | ¥13,200 |
Ingrown Nail Bracing Technique 3TO (VHO)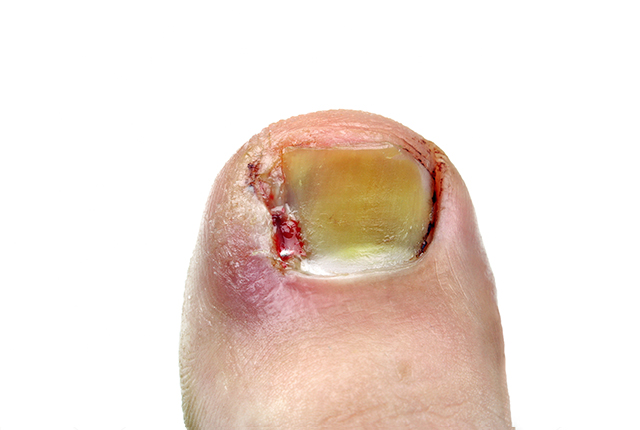 Although many people suffer from ingrown toenails that sink deep into the paronychium, or "pincer nails" that bend abnormally towards the medial side, there has currently been no optimal treatment for such conditions. "3TO (VHO) nail bracing technique" utilizes the human body's own healing abilities to treat even conditions where the nail has sunk deep into the nail bed. The treatment is currently the best option as the patient will able to shower or exercise on the day when treatment is completed, and it will not affect daily activities.
※ If the affected area has tinea pedis or infection,please undergo treatment first before undergoing this treatment.
☆The hook hangs on the nail,not on the skin, thus doesn't cause pain. There is no need for anesthesia.
☆The fixated wire will move forward along with the growing toenail, so the hook's location will have to be adjusted every 3 months after surgery. The toenail will slowly correct into a normal condition within 6 months to a year.
※Medical insurance does not provide for this treatment as this is a selfpaid treatment.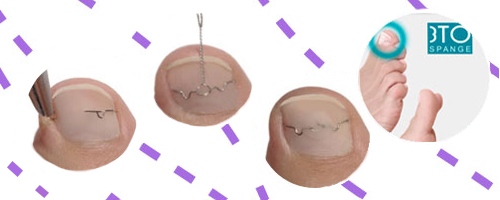 【Advantages of the Ingrown Nail Bracing Technique 3TO (VHO)】
3TO (VHO) ingrown nail bracing technique is currently the method with least burden.
It has good flexibility to accommodate to any kind of situation.
On-site adjustment of the wire's length and curvature in accordance to different types of ingrown nails' shapes and surrounding conditions.
Painless and sanitized
Easily recover to the natural nails
Correction is often completed after 3 months if there are no further complications.
※ Ingrown nails can be affected by daily factors such as gait and shoes, and may recur. It is important to avoid factors that may cause ingrown nails even after the wire is installed.
Ingrown Nail Bracing 3TO (VHO)
Ingrown NailBracing

(1unit):

¥10,780
Wire Adjustment
¥5,280

Follow-up Charge
¥1,100
Derma Pen 4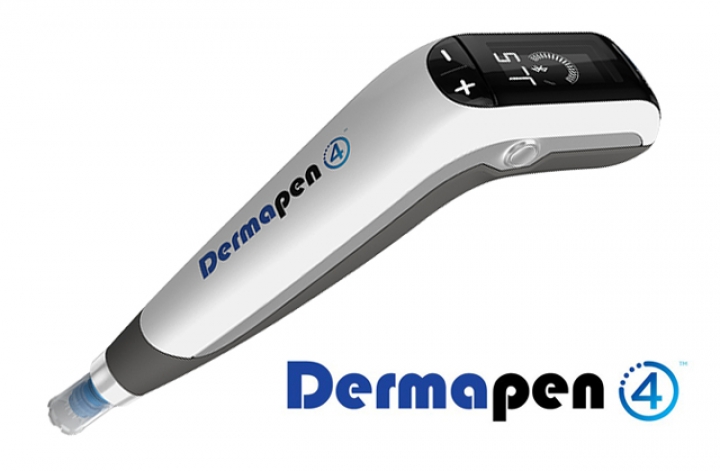 The Derma Pen 4 treatment in our hospital uses ultra-fine needles thinner than hair to create numerous small pores on the skin surface to improve natural skin healing and achieve aesthetic effects.
This treatment promotes metabolism which can increase dermal collagen, hyaluronic acid and elasticity.
The effects include prevention and alleviation of large pores, loose skin pores, keratosis pilaris, scarring and uneven skin texture caused by acne inflammation. In addition, it can also decrease fine wrinkles, hyperpigmentation.
As symptoms and treatment results vary from person to person, expected results may be achieved in one treatment in some individuals, but several treatments may be needed to achieve expected results in other individuals.
【Treatment Intervals】
Once a month for around 4-6 sessions (determined based on individual results)
【Side effects】
After surgery, point-like needle mark may be experienced, and skin reddening,petechiae, or local swelling may occur. These symptoms usually subside after a few days but may require a longer time up to one week in certain individuals.
【Precautions】
Do not rub the treated site after treatment. Face washing or cosmetic application can be carried out after 12 hours. At the same time, please avoid stimulating skincare products and maintain cleanliness at the treated site as much as possible.
【Patients with the following conditions cannot undergo this treatment】
Allergy to lidocaine and metals, shingles, pregnancy, breast-feeding period, wounds,or inflammation present at other sites.
Derma Pen 4
Whole Face
¥27,500


3-time course:

¥71,500


6-time course:

¥137,500
Nose + Cheek
¥16,500


3-time course:

¥42,900


6-time course:

¥82,500
5cm x 5cm
¥8,800


3-time course:

¥22,880


6-time course:

¥44,000
Face + Neck
¥44,000


3-time course:

¥114,400


6-time course:

¥220,000
Massage Peeling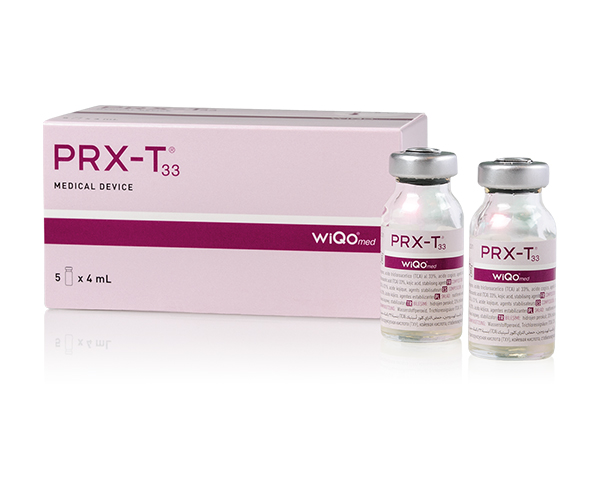 In contrast to normal exfoliating peel, the penetration of deep skin withnon-exfoliating compound formulations will not only promote collagen synthesis and increase skin elasticity but also improve skin with large pores.
PRX-T33 is different from other exfoliating treatments as it does not cause keratin peeling but can improve skin elasticity, decrease pigmentation, and improve acne scars.
In addition to trichloroacetic acid (TCA) and hydrogen peroxide (H2O2), PRX-T33 also contains kojic acid that can brighten skin. Therefore, it can simultaneously improve melasma and freckles to achieve whitening effects.
【Treatment Course】
The usual standard is 5 treatments every 2-3 weeks. It is recommended that maintenance treatment be carried out every 1-2 months after the skin has rested for 1 month. (Based on skin condition, we may recommend a set of standard treatment before maintenance)
【Precautions】
During surgery, you may experience burning or prickling pain. After treatment, the skin will become red, but this usually resolves within1-2 days and may require one week in some cases. During this period, please do not use alcohol-containing cosmetics and facial scrubs.
Pregnant and breast-feeding women cannot undergo this treatment. Patients with allergic skin or who develop dermatitis frequently must select a suitable time to undergo this treatment
Massage Peeling
Whole Face
¥ 11,000


3-time course:

¥28,600


6-time course:

¥55,000
Neck
¥ 6,600


3-time course:

¥17,160


6-time course:

¥33,000
Velvet Skin Regeneration (Derma Pen 4 + Massage Peeling)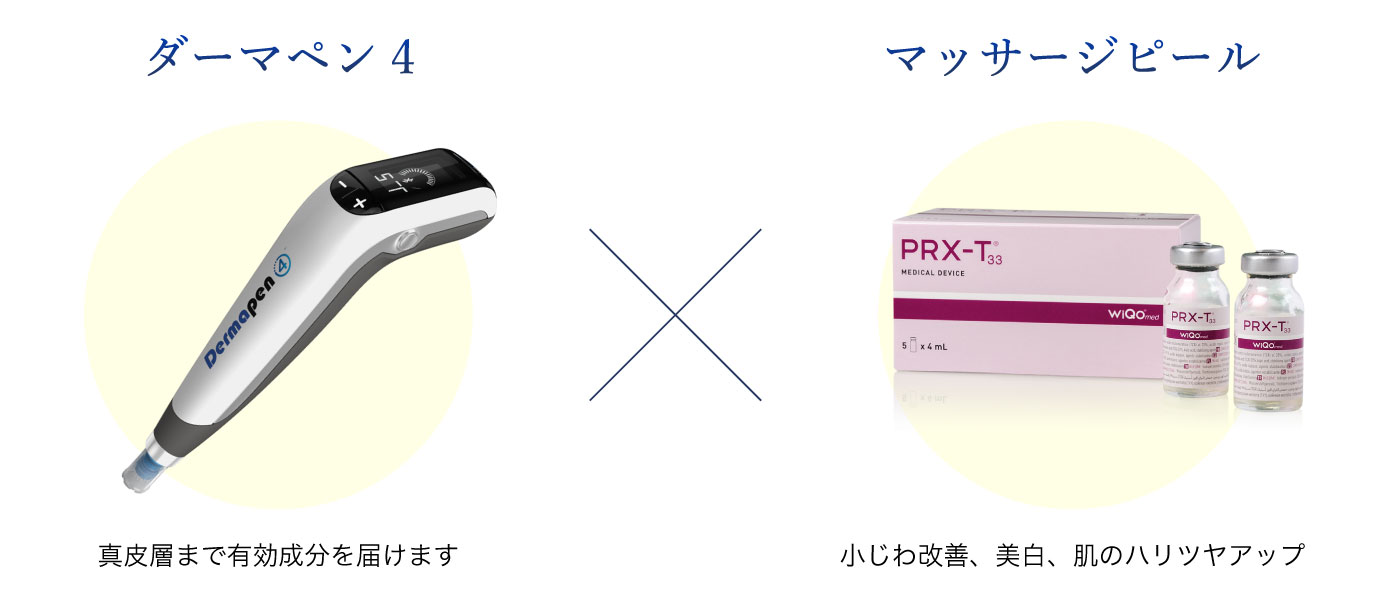 This is a method that combines DermaPen4 with massage peeling and is used to treat acne scars, scars, and stretch marks. The subject can feel an increase in elasticity and firmness in the deep skin layer. In order to induce the repair at the deep skin layer, a microneedler is used to create numerous pores on the skin surface. The skin produces large amounts of collagen through its regeneration and self-healing ability to heal these pores. Collagen will shrink pores and improve acne scars to increase skin firmness and elasticity.
PRX-T33 Massage peel is applied on the skin with highly dense pores and can penetrate to the dermis. Under this synergistic effect, skin firmness and elasticity rapidly increase,causing it to be like velvet skin.
【Treatment cycle】
Once every 4-6 weeks (it is recommended that multiple treatments be carried out.
However, efficacy varies from individual to individual)
【Contraindicated Patients】
Patients with a keloid constitution
Patients with bleeding disorders
Patients who are allergic to lidocaine
Patients with conditions deemed by the physician to be unsuitable for this treatment
Velvet Skin Regeneration
Whole Face
¥35,200


3-time course:

¥91,520


6-time course:

¥176,000
Botox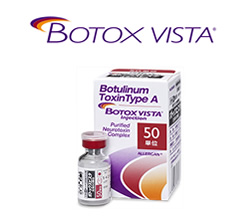 Principles
Botox Vista® is a drug that uses C.
botulinum type A as its active ingredient. Between nerves and muscles, the chemical transmitter, acetylcholine, is released, and transmits nerve stimulation to the muscle, causing them to contract.
Botox VISTA® is injected into tense muscles to relax them and can improve facial wrinkles. Botox Vista also blocks the nerve stimulation of sweat secretion, thus inhibiting the function of sweat glands.
Applicable symptoms
Facial wrinkles (between the eyebrows, corner of the eye)
Hyperhidrosis (underarms) ※ insurance is applicable
【Points to note】
Pregnant women and women who are breast-feeding should not use the drug; please practice contraception until the end of the second menstruation after the last injection.Men must practice contraception for at least three months during the course of injection.
People with neuromuscular disorders cannot receive this treatment.In addition, people taking antiplatelet drugs are prone to internal bleeding, please pay special attention.
Botox Vista® is approved by Ministry of Health, Labour and Welfare of Japan as a highly safe drug.However, there's no guarantee you won't develop an unknown infection after the injection.
A small number of people will develop antibodies in their bodies that will weaken the effect of the treatment.
| | |
| --- | --- |
| Glabella | ¥16,500 |
| The Outer Corners of Eyes | ¥16,500 |
| Glabella+The Outer Corners of Eyes | ¥28,050 |
Hydra Facial
The effects of this beauty machine are:
Removal of excess sebum, reduces oil production to prevent acne
Removes blackheads and dirt, tightens the follicular pores, and restores radiant skin!
Also improves the absorption of skin care solutions!
The absorption of the beauty lotion is multiplied and the smoothness of the skin is increased.
It also moisturizes the skin, reducing the appearance of fine lines caused by dryness, leaving the skin smooth and clear.
Aqueous glycolic acid solution is sprayed in a spiral pattern from the central nozzle, gently exfoliating the skin.

Salicylic acid aqueous solution effectively dissolves residual sebum and impurities deep in the pores and draws them out of the pores on both sides.

Spraying hyaluronic acid and other moisturizing solutions on the pores after soothing can effectively penetrate the skin, enhance the moisturizing effect, and firm the skin.
Recommended for the following people!!!
Makeup can be done immediately after the treatment and treatment is easy and seamless.
Specially recommended areas are the nose and chin where follicular pores tend to clog.
Hydra Facial
Whole Face

(Once) 

¥8,800


Chip*(L):

¥1,100


Chip*(S):

¥1,100
Nose+Chin

(Once) 

¥5,500


Chip*(S):

¥1,100
*Chips are reusable
Phototherapy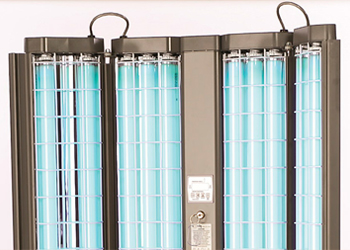 Besides the use of oral and topical medications for chronic skin diseases, our hospital also has phototherapy devices to help patients recover faster. UV light of a certain wavelength is used to reduce inflammatory responses in disease lesions, presenting a warm and systematic treatment.
Allergen detection
In order to identify the allergens and enable chronic skin diseases to recover earlier,beside general blood examinations, only requires a finger prick to obtain blood that can be tested to show results within 20 minutes. It identifies if allergens is related to environmental (cedar, ragweed, japanese mugwort, orchard(cat) grass, cat, dog, cockroaches,pteronyssinus). After identification of the allergens, we will instruct the patient how to avoid these allergens so that the symptoms of allergy can disappear.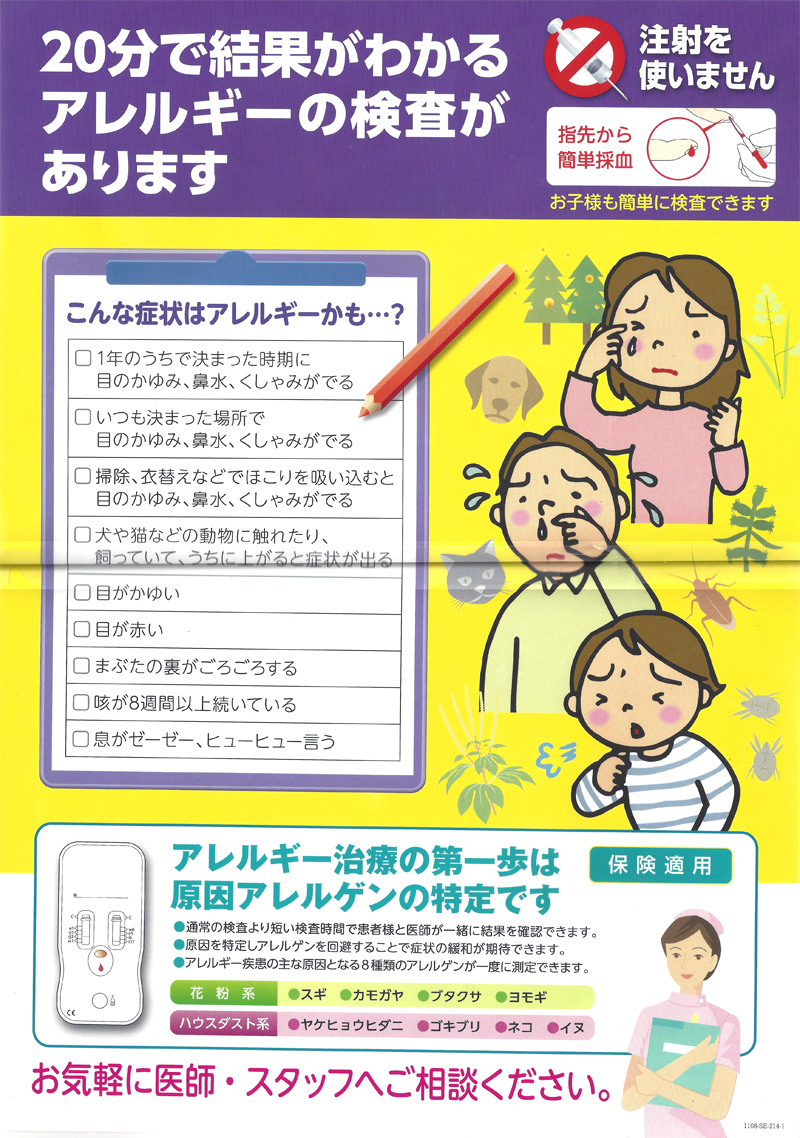 Hyperhidrosis treatments provided by our hospital
The purpose of sweating is to prevent excessively high body temperature as sweating can regulate body temperature. However, many people with a hyperhidrotic constitution find that their daily lives are affected. This is known as hyperhidrosis.
Hyperhidrosis can be classified as primary hyperhidrosis in which the etiology is unknown or secondary hyperhidrosis that is caused by diseases or drugs. Our hospital provides the following treatments for primary hyperhidrosis.
Ointments (topical drugs)
It is medically proven that aluminum chloride can cover the sweat glands in the stratum corneum to reduce sweating. Results will slowly appear when the patient applies the ointment continuously every day. As the duration of the effect is short, sweating will occur once topical application is discontinued. The ointment can be applied at all sites on the body and is not limited to the limbs and armpits. As this ointment is currently not approved for insurance coverage, our hospital has 10% to 30% aluminum chloride ointments for patients to use.
Injection drugs (Botox therapy)
Botox therapy is the axillary injection of natural protein drugs extracted from Clostridium botulinum. This toxin works by inhibiting the secretion signals by the sympathetic nervous system on the sweat glands to achieve its antiperspirant effects.
There is no need to worry whether injection of botulinum toxin will result in infection. This drug can only be covered by insurance payment when a diagnosis of severe axillary hyperhidrosis is made by the doctor The treatment effects varies amongst people and one injection can usually last for around 4 to 6 months.
Oral medications
There is one oral medication that is covered by insurance, which is Probanthine. Effects are observed around 1 hour after administration and persists for around 5 hours. As this drug may cause other side effects such as mild constipation, it cannot be taken for long periods. Patients with glaucoma or prostate hypertrophy cannot use this drug as well. Please seek consultation at our hospital if you do not wish to be troubled by hyperhidrosis on the head and face.
Treatment for Rosacea
Flagyl (metronidazole) topical ointment is a standard treatment method for rosacea in the world but is not amongst drugs covered by insurance in Japan. Our hospital has a dedicated self-paid formula. This is a slow-acting drug that has good therapeutic efficacy. Even though its effector mechanisms are still unclear, it is widely acknowledged that the ointment has anti-inflammatory and immunosuppressive effects. Its hydrophilic ointment base can alleviate inflammation and heat sensation.
Capability of communicating in Chinese or English
Some of our doctors and staffs can talk in Chinese and/or English. According to their duty time shifts, please kindly contact us in advance before your visit for your best convenience.
Reception Time
Reception Time
月
Mon
火
Tue
水
Wed
木
Thu
金
Fri
土
Sat
日・祝
Sun. & Holidays
10:00~13:00
●
●◎
●
●◎
●
△◎
Off
14:00~17:00
●
●◎
●
●◎
●
Off
Off
△:The 2nd & 4th Saturday Monthly Only
◎:Consultation in English&Chinese:Tue・Thu・Sat.
Off:Sat. (PM),
Sun. & Holidays
Access
Clinic Name
Shibuya International Skin Clinic
Tel
03-3486-6601Inquiry Form
Address
1F, Tokai Building, Higashi 1-27-10, Shibuya-Ku Tokyo
Access

WALKING TIME FROM JR/SUBWAY STATION

・Shibuya Station via JR line, New South Exit,
7 minutes walk ahead to Ebisu along Meiji Dori

・Ebisu Station via Hibiya subway line/JR line, West Exit,
7 minutes walk ahead to Shibuya along Meiji Dori

BY BUS
・From Shibuya Station take the Toei buses
#田87 bus to Tamachi Station or
#都06 bus to Shinbashi Station,
get off at "Shibuya-shako-mae" stop

・From Ebisu Station, walk to bus stop "Ebisu-eki-mae",
take the Toei buses
#田87 bus or
#都06 bus to Shibuya station,
get off at "Shibuya-shako-mae" stop

Services
General dermatology, Pediatric dermatology,Cosmetic dermatology.
Affiliated Clinic
| | |
| --- | --- |
| Clinic Name | Moriya Eye & Skin Clinic |
| Tel | 0297-45-6686 |
| Address | 〒302-0121 5 Chome-7-1 Mizukino, Moriya, Ibaraki |